When: Thursday, November 11, 2021
7:20pm on Zoom
Special Guest: Rachel Farmer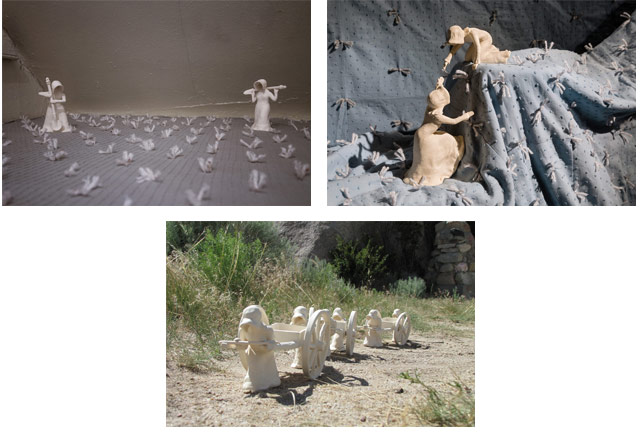 We are delighted to have the multi-talented Rachel Farmer present for us! Rachel will talk about the project she worked on during her fellowship at Greenwich House Pottery, which continued a body of work she has been making that features miniature sculptures of pioneer women in action in diorama-like scenes that question the dominant narratives of the American West. Join us for HRP's next Zoom meeting Thursday, November 11th. The meeting will open at 7:20 and the demo will start at 7:30.
Rachel Farmer is an artist who uses ceramics and quilts to re-examine histories that get passed down through families, institutions, and pop culture—such as the mythology of the American West, and the artist's own Mormon pioneer ancestry—with a queer, feminist bent.
Farmer has an MFA from the School of the Art Institute of Chicago and a BFA from Brigham Young University. She has had a number of exhibitions, including at: Granary Arts (Ephraim, UT; 2018), Leslie-Lohman Museum of Art (New York, NY; 2017), and A.I.R. Gallery (Brooklyn, NY; 2013). Farmer has been an artist in residence at Greenwich House, Brush Creek Arts and the Museum of Arts and Design.
See her work here:
https://rachelfarmer.com/
https://www.instagram.com/rachelleefarmer/
Members:
All members will receive a Zoom link the day before the meeting.
Non-Members:
Non-members are welcome to come watch this gifted potter for $11. RSVP by clicking the button below and submitting your payment.
You are welcome to share this invitation and we hope that you will recommend us to your fellow potters!
If you are not yet a member, please join Hudson River Potters and become a part of our clay community. Members enjoy exclusive access to our collective featuring 10 monthly meetings with presentations by renowned clay artists.
Upcoming meetings:
Thursday, December 16th: Mark Bell https://www.markbellpottery.com/
January (date to be confirmed): Dr. William Carty https://ceramics.org/person/william-m-carty