When: Thursday, June 16, 2022
7:20pm on Zoom
Special Guest: Gerrie Wiles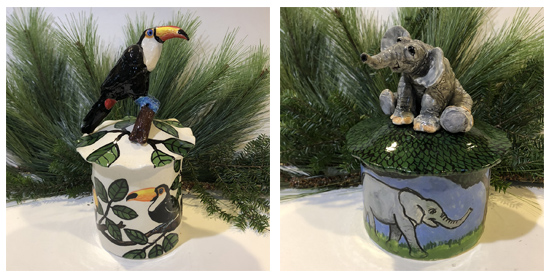 We are so happy to have HRP's own outgoing Program Chair, Gerrie Wiles, finish up our season with a truly fun session! Anyone can make small animal sculptures which can be used to decorate your jar lids, as a knob for your teapot, or a standalone piece of art. Gerrie will be demonstrating how to make several creatures.
Join us for HRP's next Zoom meeting Thursday, June 16th. This will be the last one for 2021-2022 season. The meeting will open at 7:20 and the demo will start at 7:30.
Gerrie Wiles creates whimsical clay animals and places them in environments that are fun as well as functional. "I love using clay. I love this planet and the animals we share it with."
See her work here:
https://www.wilesanimalpottery.com/
https://www.instagram.com/geraldinewiles/
https://www.instagram.com/wilustrations/
Members:
All members will receive a Zoom link the day before the meeting.
Non-Members:
Non-members are welcome to come watch this gifted potter for $11. RSVP by clicking the button below and submitting your payment.
You are welcome to share this invitation and we hope that you will recommend us to your fellow potters!
If you are not yet a member, please join Hudson River Potters and become a part of our clay community. Members enjoy exclusive access to our collective featuring 10 monthly meetings with presentations by renowned clay artists.
Upcoming meetings:
TBD