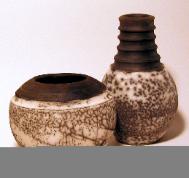 I love playing with clay – taking a mound of clay and shaping it into a
beautiful vessel. I throw on the potter's wheel and am primarily a functional
potter – plates, bowls, mugs, vases, etc. Working mainly with porcelain, I
concentrate on simple shapes.

Glazes intrigue me and I am willing to take risks in this area and am
constantly experimenting with glaze formulations. I also use various
combinations of glazes often in conjunction with resist techniques to create
various patterns.

I have been working with clay for many years, mainly as a student at the
Westchester Art Workshop in White Plains, NY and have recently
established my own studio which has allowed me to experiment further.